Anleitung zum Entleeren des Alttonerbehälters an Samsung SL-M 2620, SL-M 2670, SL-M 2820, SL-M 2870, MLT-D 116 S/E ELS:
Der Alttonerbehälter nimmt den restlichen, nicht benötigten Toner auf. Nach jeder gedruckten Seite wird der überschüssige Toner in den Alttonerbehälter geführt und muss deshalb nach zwei mal leer drucken, entleert werden.
Mit dieser Anleitung zeigen wir Ihnen wie Sie Ihren Alttonerbehälter entleeren.
Entleeren des Alttonerbehälters an Samsung Samsung SL-M 2620, SL-M 2670, SL-M 2820, SL-M 2870:
Bei dieser Serie von Samsuung ist der Alttonerbehälter von außen sehr gut zugänglich. Sie können den Alttoner entfernen indem Sie eine kleine Öffnung hineinschmelzen und dann den Alttoner mit einem Tonerstaubsauger absauger oder vorsichtig herausschütteln. Danach müssen Sie die Öffnung natürlich wieder zukleben. Löten Sie dazu eine kleine Öffnung in die in Abbildung 1 und 2 gezeigte Stelle. Nachdem Sie die Öffnung hineingeschmolzen haben, müssen Sie die Ränder säuberlich entgraten (Abbildung 3). Achten Sie darauf, dass keine Plastikspäne in den Alttonerbehälter gelangen. Diese können die Tonerkartusche beschädigen.

Jetzt können Sie den Alttoner vorsichtig in einen dichten Plastikbeutel ausschütteln oder mit einem Tonerstaubsauger absaugen. Nachdem Sie den Alttonerbehälter entleert haben, können Sie die vorher hineingeschmelzte Öffnung wieder verschließen. Nehmen Sie dazu ein passend großes Stück Gewebeklebeband und kleben Sie es auf die Öffnung (Abbildung 4). Achten Sie darauf, dass das Gewebeklebeband dicht daraufgeklebt ist und kein Toner herausrieseln kann.Jetzt können Sie Ihre Tonerkartusche wiederbefüllen oder in den Drucker einsetzen.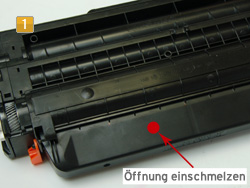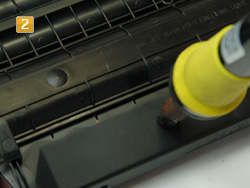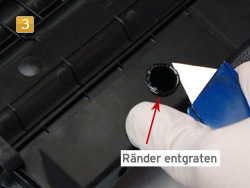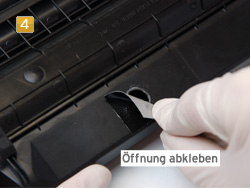 Sicherheitshinweis für den Umgang mit Nachfülltoner:
Nachfülltoner und Tonerpulver können bei unsachgemäßer Handhabung Gesundheitsschäden hervorrufen. Wir empfehlen beim Befüllen von Tonerkartuschen ausdrücklich den Einsatz von Atemschutzhilfsmitteln oder Absaugkammern. Darüber hinaus kann Tonerpulver und Nachfülltoner bei einem entsprechenden Sauerstoffgemisch hochentzündlich sein. Achten Sie außerdem darauf, dass Sie auf keinen Fall die Fotoleiter-Trommel berühren oder direktem Sonnenlicht aussetzen. Dies kann zu fehlerhaften Ausdrucken führen.
Octopus übernimmt keine Verantwortung für Erfolg oder Misserfolg der beschriebenen Vorgehensweise.
Alle Hersteller und Markennamen dienen nur zur Kenntlichmachung der Kompatibilität und sind Eigentum der jeweiligen Rechteinhaber.
Samsung ML 2950, 2951, 2955, SL-M 2870, 2820, 2670, toner powder black, 70g
Content: 70g of bulk toner, sufficient for approx. 2,500 pages at 5% coverage.
OPC drum for Samsung ML 2950, 2955, 3310, SL-M 2870, 2820, 2670
OPC drum for Samsung ML 2950, 2955, 3310, SL-M 2870, 2820, 2670 toner cartridges
Protective Mask FFP2
Use this Protective Mask for breathing protection while refilling your Laser Toner Cartridges.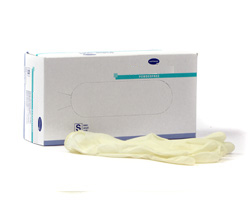 Latex gloves standard, powder free
The Canon Chip Resetter with power supply Canon cartridges PGI-520, CLI-521.